Posted by cloudninerescueflights, June 8, 2016 12:58 am
It's been almost 5 and a half years since the first time I did a "Flight for Life" with Operation Pets Alive, starting off their "Flight for Life" program. Since then, we've worked together transporting hundreds of animals around the country out of the high-kill Houston area to places where they will find loving homes.
OPA was excited that we were upgrading to a larger plane that would allow us to carry more dogs. As I focused on getting the 414 ready to fly, we kept in touch regarding potential dates for the inaugural transport run of the 414, deciding that we were comfortable with a date of June 4th. Not having crates for the plane, OPA was kind enough to volunteer crates of their own to outfit our new plane.
Getting ready to load the dogs
I flew down on Friday, June 3rd to meet Marcia from OPA at the Lone Star Executive Airport, where we started figuring out the crate configuration. The first dog flight in a new plane always has a learning curve. You have to figure out which crates go where, and what the optimal configuration of the puzzle is. It took a few tries, but in the end we were able to fit twice as many crates as we could in the 310, with most of them also being larger. This means we have double the capacity that we used to! Needless to say, we were all thrilled about this.
Another shot of preparing to load
Despite having double the capacity, OPA is very efficient about loading dogs in their respective crates, and the loading time ended up being no longer than it did with the 310. With all the dogs loaded and the plane fueled up, we took off heading north for New Hampshire.
The flight north had a number of thunderstorms along the route of flight, with heavy rains and frontal activity moving around the eastern half of the country. However, we easily navigated around the bad weather, and maintained a smooth ride the whole way. The dogs were happy and quiet for almost the entire flight, waking up only for fuel stops.
The view of dog crates in the cabin from the cockpit.
A lot of dogs often means a lot of receiving groups, and in this case we had 4 separate groups (at two airports) receiving dogs, which always makes me a bit nervous – I want to make sure the right dogs go to the right receivers! Fortunately, they all had collars that were color-coded to indicate which receiving rescue took which dogs. The most ironic (and funniest) part for me was that the dogs who were the most eager to get out of the crates at the first stop were the ones that had to go to the second stop. Meanwhile, the dogs who had to get off at the first stop were perfectly content where they were! Sorry, kids! It's time to…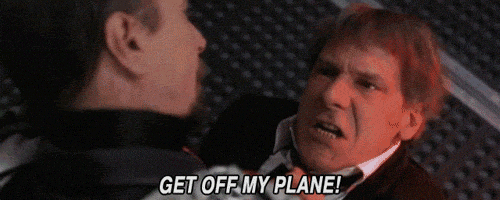 (obviously we were nicer about it than Harrison Ford!)
After a long day of flying north, we had a long trip back to Kansas, and headed back west. An overnight in Grand Rapids followed by the rest of the trip back home to Kansas the next day made for a long, but satisfying weekend with 30 dogs saved.
So, what's the verdict? Did we make the right decision by upgrading? Here's what I can say: Our 414 is an even better dog hauler than I had anticipated! I had expected a 50% capacity increase, but this plane offers a full double capacity vs. the 310. Right now it burns about 20% more fuel, although I expect that I'll get that number down as I improve its efficiency (which I will, just as I have done with the previous aircraft). I'm thrilled with the capacity increase, and the ability to fly in smoother air at higher altitudes, which is much easier on the dogs.
Even better than that, the plane performed flawlessly on the trip. While we had a few minor squawks (which isn't uncommon even on a sorted plane), we had no major problems. I'll be taking the plane back to the shop to address these minor items and will then get to work on making it more efficient.
I also want to take a moment to remind everyone that we've incurred a great deal of expense in bringing the 414 back into airworthy condition, and have more upgrades that we need to do in order to make the plane an optimal dog hauler. Right now the plane needs to go on a diet (this will allow us to carry more fuel and eliminate a fuel stop) and we are also still trying to raise money towards our engine fund, see the link below for the blog entry:
http://www.cloudninerescueflights.org/2016/05/the-414-engine-overhaul-project-we-need-your-help/
We're working on scheduling our next transport and will be back in the sky soon, saving even more pups than before!
Blue Skies,
-Ted